Liaison Committee on Medical Education

Wake Forest University School of Medicine will undergo an accreditation site visit from the Liaison Committee on Medical Education (LCME) in February of 2024. Medical education programs leading to the MD degree in the United States and Canada are accredited by the LCME. LCME accreditation is a peer-reviewed process of quality assurance that determines whether the medical education program meets established standards. This process also fosters institutional and programmatic improvement.
Programs are required to demonstrate that their graduates exhibit general professional competencies appropriate for entry to the next stage of their training and that serve as the foundation for lifelong learning and proficient medical care. While recognizing the existence and appropriateness of diverse institutional missions and educational objectives, the LCME maintains that local circumstances do not justify accreditation of a substandard program of medical education leading to the MD degree.
Roles and Responsibilities
The dean of the medical school has overall responsibility for the LCME accreditation process.
The Institutional Self-Study Task Force reports to the dean, and is responsible for overseeing, advising and promoting excellence during the self-study process and throughout the site visit.
The Self-Study Workgroups are responsible for assessing and critiquing the school's compliance with the 12 LCME Standards.
Students will organize the Independent Student Analysis (ISA) to gather student opinion data based on their medical school experiences.
LCME Timeline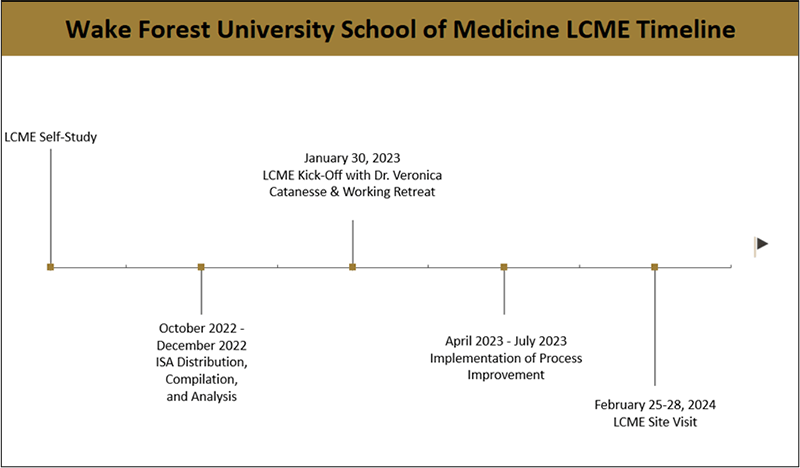 Institutional Executive Self-Study Taskforce
Institutional Executive Self-Study Task Force Members/Charge
Overview
The Self-Study Task Force is responsible for overseeing the self-study process in preparation for the site visit by the Liaison Committee on Medical Education.
Charge
Monitor progress of the 10 working groups to address all areas of medical education at Wake Forest University School of Medicine
Arrange for school-wide review of and response to draft Self-Study Summary Report
Review, edit and approve the final Self-Study Summary Report, Data Collection Instrument, Documentation Roadmap (appendices)
Participate in LCME Kick-Off Event, mock site visits and site visit Survey Team