2021 Summer Program Canceled:
High School Summer Research Exposure Program cancelled due to the ongoing coronavirus and social distancing guidelines. We anticipate offering a virtual summer academy with on-line application by March 30th, 2021.
The Wake Forest Institute for Regenerative Medicine (WFIRM) Summer Research Exposure Program (SREP) offers high school students (ages 16-18) a multidisciplinary education, 5-week faculty-mentored regenerative medicine research exposure experience.
The SREP provides students with educational and hands-on, mentored research/shadowing experiences with WFIRM faculty researchers and their teams. The program is designed to increase students' familiarity with the scientific process and the RM field. We also seek to stimulate high school students' interest in advanced education and careers in STEM disciplines and biomedical research in a friendly and nurturing environment. The experience also contributes to their understanding of the multidisciplinary of the field and how "team science" works in the real world.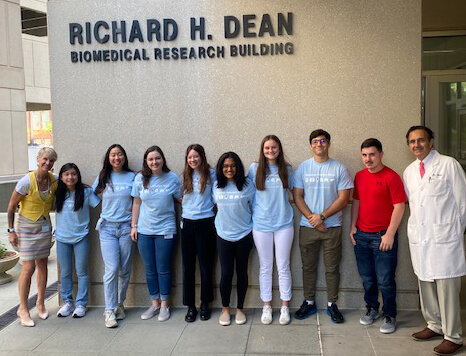 Program Benefits
Academic, Social and Personal
Participate in regenerative medicine research with WFIRM faculty, students and staff in a strong team-based environment.
Gain unique hands-on research experience and skill development.
Attend the annual Regenerative Medicine Essentials Course as well as special seminars and weekly research meetings.
Meet and network with peers and near-peers who have similar interests and goals.
Heighten and inspire interest and academic confidence in STEM disciplines.
Become more competitive when applying to undergraduate schools in the STEM disciplines.
Tentative Agenda
Week 1 - Attend Regenerative Medicine Essentials Course

Week 2 - Lab Orientation and Training

Weeks 2-6 - Research Exposure with Mentor - weekly schedule and hours to be determined at mentor's discretion (avg 20-30 hours per week)
How To Apply
The Wake Forest Institute for Regenerative Medicine (WFIRM) has initiated a new opportunity for high school students to explore the world of regenerative medicine and engage in hands-on research by working with WFIRM researchers and their teams.
The high school student is required to be a minimum of 16 years of age on or before June 8, 2021 and will be required to produce immunization records upon selection.
To apply to the High School Summer Research Exposure Program (SREP) at WFIRM, students should complete an online application form and submit two letters of recommendation through U.S. postal mail.
Recommendation forms and more information can be found in the application packet below.
Submitting an Application
To review the application process, download the High School Application Packet.
Once the online application opens on or before February 1, complete the online application form. After completing the online application, complete each form included in the packet and mail the completed packet no later than 5pm on March 31 to:
Joan F. Schanck
Wake Forest Institute for Regenerative Medicine
Medical Center Boulevard
Winston-Salem, NC 27157-7290
All applicants will be notified on or before May 1. If you're selected to participate in the SREP at WFIRM you'll be responsible for providing immunization records and documentation of a tuberculosis (TB) skin test by May 10, 2021. Under the Required Documentation section, remove the hyperlinks for 'online application form' and 'High School Application Packet'.
Required Documentation:
Completed online application form
Completed materials and forms found in the High School Application Packet
Signed agreement and parental consent form
Teacher recommendation form (two recommendations required)
Summer Scholar
Primary Faculty Mentor(s)
Christopher Glontz
NC School of Science and Math Junior
Giuseppe Orlando, MD, PhD
Marie Curie Fellow and Assistant Professor
Riccardo Tamburrini, MD
Jacques Thomas Hall
Forsyth Country Day School Sophomore
John Jackson, PhD
Associate Professor
Mia Keller
Parkland Magnet High School Junior
Steve J. Walker, PhD
Associate Professor
Asim Khan
Marvin Ridge High School Junior
Shay Soker, PhD
Professor

Halle Kincaid
Forsyth Country Day School Junior

Graca Almeida-Porada, MD, PhD
Professor
Christopher Porada, PhD
Associate Professor
Sunil George, PhD
Associate Professor

Wallis McCrea
Mooresville High School Senior

James Yoo, MD, PhD
Professor
Sang Jin Lee, PhD
Associate Professor

Kishen Mitra
West Shore Jr/Sr High Junior

Anthony Atala, MD
Professor and Director of WFIRM

Ashley Peake
Salem Academy Senior

Frank Marini, PhD
Professor

Elisa Rich
North Davidson High School Junior

Thomas Shupe, PhD
Assistant Professor

Taylor Schutt
Northern Guilford High School Junior

Tracy Criswell, PhD
Assistant Professor

Robert Treadway
Cardinal Gibbons High School Senior

Emmanuel Opara, PhD
Professor
Kevin Enck, PhD Candidate