2021 Summer Program Update:
Our standard, 5-week Summer Research Exposure Program format has been offered as a "Virtual" High School Summer Regenerative Medicine Exposure Program for students ages 16 to 18. During the WFIRM HS Virtual Academy, students from the region and beyond attended a 1-week virtual academy focused on RM science and technologies, which culminated with on-site workshops and graduation day on-site at WFIRM.
The Wake Forest Institute for Regenerative Medicine (WFIRM) Summer Research Exposure Program (SREP) offers high school students (ages 16-18) a multidisciplinary education, 5-week faculty-mentored regenerative medicine research exposure experience.
The SREP provides students with educational and hands-on, mentored research/shadowing experiences with WFIRM faculty researchers and their teams. The program is designed to increase students' familiarity with the scientific process and the RM field. We also seek to stimulate high school students' interest in advanced education and careers in STEM disciplines and
biomedical research in a friendly and nurturing environment. The experience also "science" works in the real world.
Tentative Agenda Overview
Week 1 : June 14-18 – High School students attend the 8th Annual Regenerative Medicine Essentials Course which is co-joined with the 18th Annual World Stem Cell Summit. Registration fee is waived for this virtual event attracting nearly 1,000 participants from across the globe.


Week 2: July 19-23 – Unique virtual academy deepens students understanding of the regenerative medicine field, team science, various technologies by connecting students with WFIRM faculty and graduate students research mentors. Career and educational pathways are also explored.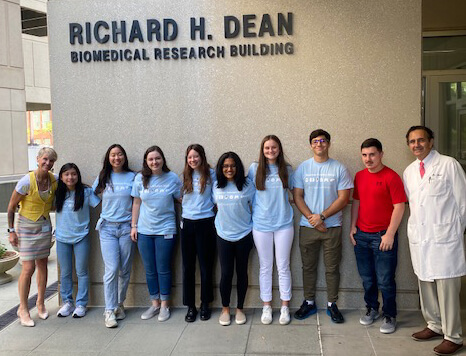 ---
Caption: 2021 HS Virtual Academy Students, Anya Abhayakuman, Raifah Alam, Cailin Antonio, Jessica Chen, Aiden Criswell, Kevin Guo, Janani Krishnakuman, Taekyung Lee, Caleb McDaniel, Sanjana Premnath, Aisha Riddik, William Stoneking, Katherina Tsai and Arya Vinod, joined with Dr. Tracy Criswell, Associate Professor, WFIRM, J. Schanck, Chief PO of Education, WFIRM and Teresa Gentry, WFIRM Master HS educator at Mt. Tabor.
---
Program Benefits
Academic, Social and Personal
Participate in regenerative medicine research with WFIRM faculty, students and staff in a strong team-based environment.
Gain unique hands-on research experience and skill development.
Attend the annual Regenerative Medicine Essentials Course as well as special seminars and weekly research meetings.
Meet and network with peers and near-peers who have similar interests and goals.
Heighten and inspire interest and academic confidence in STEM disciplines.
Become more competitive when applying to undergraduate schools in the STEM disciplines.
Broad Agenda
Week 1 - Attend Regenerative Medicine Essentials Course

Week 2 - Lab Orientation and Training

Weeks 2-5 - Research Exposure with Mentor - weekly schedule and hours to be determined at mentors' discretion (avg 20-30 hours per week)
How To Apply
The Wake Forest Institute for Regenerative Medicine (WFIRM) has initiated a new opportunity for high school students to explore the world of regenerative medicine and engage in hands-on research by working with WFIRM researchers and their teams.
To apply to the High School Summer Research Exposure Program (SREP) at WFIRM, students should complete an online application form and submit two letters of recommendation through U.S. postal mail.
Recommendation forms and more information can be found in the application packet below.
Submitting an Application
To review the application process, download the High School Application Packet.
Once the online application opens on or before February 1, complete the online application form. After completing the online application, complete each form included in the packet and mail the completed packet no later than 5pm on March 31 to:
Joan F. Schanck
Wake Forest Institute for Regenerative Medicine
Medical Center Boulevard
Winston-Salem, NC 27157-7290
If you're selected to participate in the SREP at WFIRM you'll be responsible for providing immunization records and documentation of a tuberculosis (TB) skin test by May 10, 2021. Under the Required Documentation section, remove the hyperlinks for 'online application form' and 'High School Application Packet'.
Required Documentation:
Completed materials and forms found in the High School Application Packet
Signed agreement and parental consent form
Teacher recommendation form (two recommendations required)