The two-year clinical Nephrology Fellowship program involves intensive experience and instruction in all areas of clinical nephrology. Fellows rotate through the following clinical services, as well as a clinical/research elective rotation: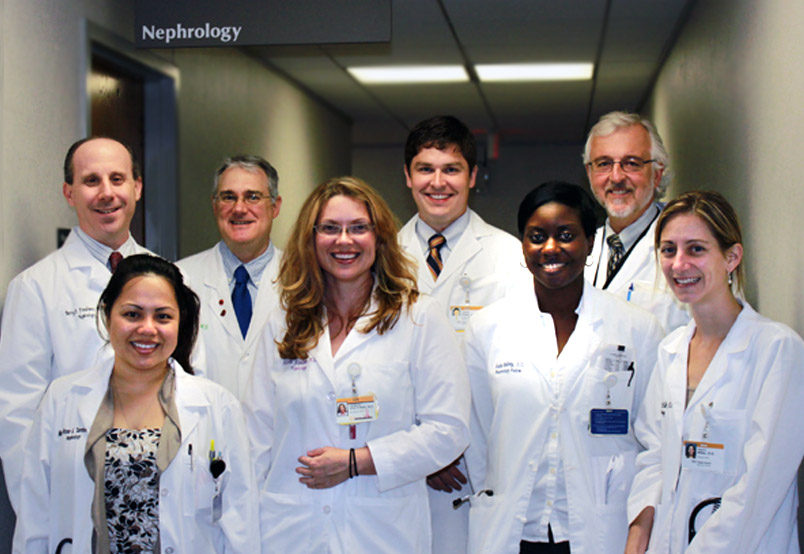 Photo: Wake Nephrology Fellows and Faculty
Evaluation
Fellows are evaluated by their supervising faculty based on performance during clinical rotations. Evaluations are based on the Clinical Milestones format used by the Accreditation Council for Graduate
Medical Education, and are reviewed with fellows on a semi-annual basis. Graduation from the program is contingent upon successful completion of milestones and competency in required procedures.
Fellows also participate in an annual In Training Examination sponsored by the American Board of Internal Medicine.
Didactic Learning Opportunities
Fellows participate in scheduled nephrology noon conferences on Monday, Wednesday, Thursday and Friday, in addition to Internal Medicine Grand Rounds on Thursday morning. Conferences include:
Journal Club
Seminar/Research Conference
Pathology Conference
Fellow's Conference Series (background knowledge topics)
Electrolyte and Physiology Conference
In addition to our rigorous conference schedule, we begin each academic year with a "survival skills" series that quickly introduces new fellows to high-yield topics including nephrology emergencies and prescribing dialysis and CCRT.
All fellows attend the American Society of Nephrology Board Review Course between their first and second years, funded by the fellowship program.