Use anchor tags below to jump down the page:
---
MD
Watson Shares Experience on 'Today' Show
Suzanne Watson, MD '17, shared her inspiring story of a medical career deferred for more than two decades with NBC's "Today" show last fall.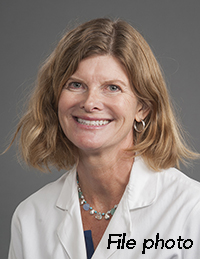 In a segment called "Second Acts," which features people who pursue second careers and new starts in life, Watson told of how she had wanted to be a doctor since she was a little girl but put her dream on hold for marriage and family. After the death of her husband, she discovered another calling, becoming an ordained Episcopal priest.
Still, the desire to pursue medicine persisted. At the encouragement of her children, Watson resumed the dream, which led her to the Wake Forest School of Medicine.
Watson is now completing the third year of her psychiatry residency at the University of Nevada-Reno School of Medicine. Since she has been there, she has even officiated at the weddings of two of her colleagues.
"We can never really know the impact we have on others," Watson said. "I think pursuing our passions—we're never too old to do that."
---
Malepati Takes Entrepreneurial Swim in 'Shark Tank'
Sarath Malepati, MD '06, pitched his growing company on ABC-TV's "Shark Tank" last fall and managed to hook one of the sharks for a financial investment.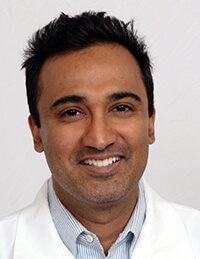 The show features a panel of five venture capitalists who listen as entrepreneurs pitch their companies for potential business investment. Malepati, a general surgeon from Los Angeles, is the creator of EZC Pak, a five-day, tapered immune support pack made of Echinacea, zinc and vitamin C designed to address problems from the overuse of antibiotics for viral illnesses.
Malepati was seeking an investment of $125,000 in exchange for 5% of his company. After some haggling with several of the sharks, Malepati reached a deal with shark Kevin O'Leary, who agreed to provide $125,000 for a 5% stake, with a royalty of $1 per unit until O'Leary makes $450,000.
Although his segment ran roughly six minutes on the show, Malepati said it was in production for 11 months.
"They were all nice," he said. "It's ultimately their creative choice how they choose to edit all of the stuff they record. I wasn't present for all of the cuts they made. They can make you look like a hero or a villain. Interesting how they splice it all together."
Malepati, 39, is married with two young children. He has cut back on his medical practice as he handles his growing business. He has 15 individual investors based in New York while his marketing operations are in Los Angeles
After the show aired, Malepati said his company's sales jumped by $50,000 overnight, moving from 100th on Amazon to seventh. The product is available nationally in CVS pharmacies and Kroger supermarkets.
---
Scholarship Extends White's Commitment to Missions Work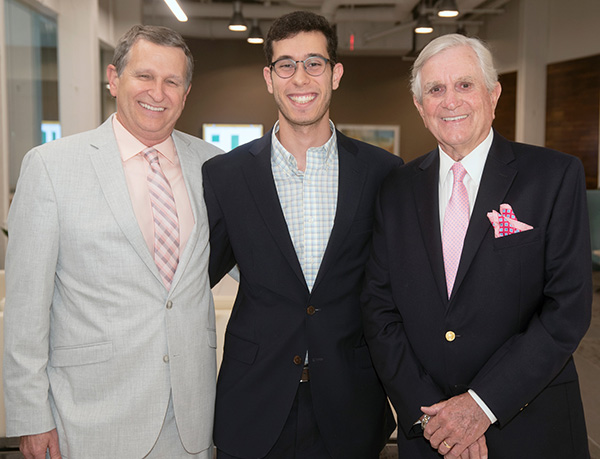 Kenneth S. White, MD '83, FACS, is committed to serving in medical missions work and to investing in young physicians who would like to do the same. White is a plastic and reconstructive surgeon in Wilmington, North Carolina. For several years, he has led a group of missionaries from his church, Trinity United Methodist of Wilmington, on two-week trips to the Dominican Republic to help the poor of that country with spiritual and physical care. Those trips are coordinated through Medical Ministry International, which White serves as a past president and a member of the board of directors.
White and his scholar, Rakan Al-Sultani, were able to participate in a mission trip together. To encourage others to follow in his footsteps, White and his wife have funded the Kenneth S. White and Lena W. White Family Scholarship Fund in honor of Frank B. Wyatt, ESQ, at the School of Medicine. The fund honors White's uncle, who inspired him to attend medical school at Wake Forest, and recognizes students with a passion and commitment to Christian medical mission work.
White also serves as a member of the school's Medical Alumni Association.
---
Class Agents Keep Connections Alive
Like many alumni, Fran DeChurch, MD '86, feels a special connection with the classmates who together shared their journey through the Wake Forest School of Medicine.
"Medical school is unlike any other life experience," says DeChurch, who is one of 82 alumni who volunteer to serve as class agents. "The relationships you have with your classmates will last a lifetime. Those four years are some of the hardest but most enjoyable years of your life."
After graduation, the pressure of completing residencies and starting families can make it difficult to stay in touch with classmates and to keep up with news from the school. Class agents help by serving as a central point of contact for classmates and as a liaison for the school and its alumni office. They unify members of their class with their outreach efforts and champion class fundraising initiatives such as class scholarships throughout the year.
Class agent duties were a natural fit for DeChurch, who was active in student government, and she has served in the role since graduation.
DeChurch says nurturing relationships among her former classmates is her greatest reward.
"When we all get together, it is like no time has passed," she says. "The people make our class special."
If you would like to volunteer as a class agent, contact us at alumni@wakehealth.edu.
Hervy B. Kornegay Sr., MD '57, Calypso, N.C., retired in October 2019 after practicing primary care for 58 years in Mount Olive, N.C.
Caryl J. Guth, MD '62, Bermuda Run, N.C., was presented in 2019 with the Albert Nelson Marquis Lifetime Achievement Award by Marquis Who's Who. The honor is reserved for biographees who have demonstrated leadership, excellence and longevity within their respective industries and professions. Guth was recognized as a leader in the health care industry.
Edward V. Hudson, MD '62, Chapel Hill, N.C., shares that Della, his wife of 50 years, has Alzheimer's dementia with eight years of progressive memory loss and other problems. She moved to a local assisted living facility in October 2019.
Elms L. Allen, MD '66, Winston-Salem, N.C., was one of the 2019 honorees of the annual 7 Over Seventy Awards presented by Senior Services, SPARK magazine and the Winston-Salem Journal. Honorees are recognized for their dedication to public service and for making a tremendous difference in Winston-Salem and Forsyth County.
Mark Michael Sapirstein, MD '70, Kelso, Wash., has retired from the practice of medicine.
Charles J. Miller, MD '71, Hamilton, Mont., has retired and is ranching in his home state of Montana. Miller completed an internship and his residency at Wilford Hall Medical Center USAF in San Antonio, Texas. He completed residencies in general surgery and in plastic and reconstructive surgery and received board certification in both fields. He was chief and director of plastic and reconstructive surgery at Wilford Hall Medical Center and was in private practice in plastic and reconstructive surgery at Sacred Heart Medical Center in Spokane, Wash., where he specialized in hand and microvascular surgery. He also was head of the cleft lip and palate board as well as the burn unit.
Alan P. White, MD '74, Mooresville, N.C., has retired from the practice of medicine and writes that he is "living the life!"
Peter S. Heyl, MD '76, Bedford, N.H., retired in June 2017 and reports that he is enjoying full retirement, skiing and sailing. He and his wife, Adair, live in New Hampshire in the winter and Maine in the summer. He sends best wishes to all classmates.
J. Wayne Meredith, MD '78, Winston-Salem, N.C., has been elected to serve as the 2019-20 president-elect of the American College of Surgeons (ACS). The honor recognizes his leadership and contribution to the field of surgery. Meredith has been a fellow of the ACS since 1990 and has devoted much of his energy to its trauma-related activities.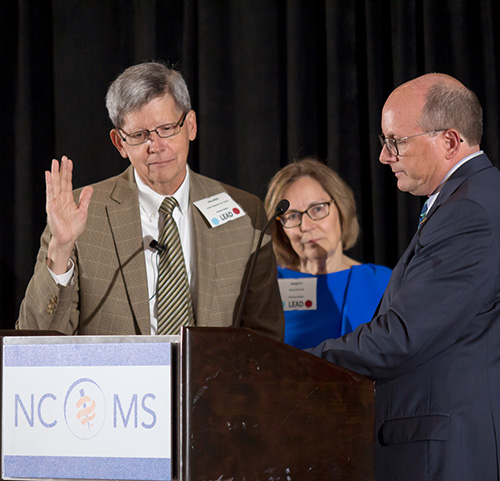 Palmer Edwards, MD '79, Winston-Salem, N.C., a practicing psychiatrist, was sworn in as the North Carolina Medical Society's 166th president on Oct. 4, 2019, at the society's annual LEAD Health Care Conference. Edwards has been a NCMS member since 1992 and a member of its board of directors for the past 10 years.
Saul Tuchman, MD '83, Belleair, Fla., has practiced for 32 years in Clearwater, Florida. He has a wonderful family and will soon be a first-time grandfather!
Scott Alan Lieberman, MD '93, Chesterfield, Mo., has served five years as chairman of the board of directors of the Physician Surgery Center at DePaul. He is a member of the board of directors of SSM Health Medical Group St. Louis, a group of 600 providers, and chairman of the Department of Ob-Gyn for the medical group with 30 ob-gyns.
Susan Ott Moran, MD '95, Doral, Fla., has moved to Miami to serve as the command surgeon for the U.S. Southern Command. She had the great joy to work with William T. Scouten, MD '95, who was serving as the lead physician for the U.S. Naval Forces Southern Command before departing for the USNS Mercy.
Perrin W. Jones, MD '99, Greenville, N.C., of East Carolina Anesthesia Associates, has been selected to fill the House of Representatives seat for District 9 in the North Carolina General Assembly. His appointment by the Pitt County Republican Party Executive Committee filled a vacancy created when Rep. Greg Murphy, MD (R-NC) was elected to Congress. Jones' appointment was made official Sept. 25, 2019.
Mark L. "Weeb" Arey, MD '02, Tampa, Fla., recently celebrated the first anniversary of his Eye Specialists division of the 200-plus-physician Florida Medical Clinic in Tampa. He practices comprehensive ophthalmology and focuses on advanced technology cataract and intraocular lens implantation. He and his spouse, Shuchi Shah, MD '02, a physician with Johns Hopkins All Children's Hospital, have three kids, Mikaela, Evan and Daniela, who are being raised with a dual emphasis on academic and athletic success. Arey invites alumni to follow him on Instagram @weeb1999 and @drmarkarey.
Karen M. Isaacs, MD '09, Wilmington, N.C., finished a yearlong American Academy of Family Practitioners' Health Equity Fellowship in fall 2019.
Bryant Cameron Webb, MD '10, JD, Charlottesville, Va., a professor of medicine and director of health policy and equity at the University of Virginia, has entered the 2020 race to represent Virginia's 5th Congressional district. His platform includes a focus on improving access to affordable health care.
James York Lindsey, MD '14, Stamford, Conn., is associate medical director of emergency medicine at Phelps Hospital Northwell Health in Sleepy Hollow, N.Y.
Jason Chancer, MD '14, Long Beach, Calif., completed residency training last year and joined Southern California Permanente Medical Group as a comprehensive medical and surgical ophthalmologist. He shares that his wife and children are excited to have traded the gray skies of Northeast Ohio for sunny Southern California.
Hannah H. Breit, MD '16, Chicago, Ill., and Eric R. Barnard, MD '16, are getting married in June 2020 in Chicago.
Tyler E. Callese, MD '18, Los Angeles, Calif., has finished a surgery internship at UCLA and is currently a PGY-2 in the UCLA integrated interventional radiology residency program.
Lucy Younger Ledbetter, MD '87, MBA
President
Stanley N. Tennant, MD '78
President-elect
Thomas B. West, MD '81
Secretary
Charles D. Harr, MD '83, MBA
Immediate Past President
Stephen L. Wallenhaupt, MD '78
MAA Annual Fund Chair
Melanie Adams, MD '89
John Alexander Black, MD '81
Rodwige J. Desnoyers, MD '94
T. Arthur Edgerton, MD '81
Michael T. Flanagan, MD '93
Johnnie Ford Jr., MD '83
Kathryn Ashton Grice, MD '85
Debra Burns Hanig, MD '83
Elizabeth McCurdy Hueman, MD '02
Janel Darey Hunter, MD '10
G. Whitfield James, MD '87
Amy Young Jordan, MD '98
Katherine C. King, MD '62
Kenneth F. Mattucci, MD '64
C. Douglas Maynard, MD '59
Wyman T. McGuirt, MD '96
James D. Sink, MD '75
Scott L. Vogler, MD '98
B. Cameron Webb, MD '13, JD
Kenneth Samuel White, MD '83
Rohan Chandana Wijewickrama, MD '05
MD Student Representatives
Kwone U. Ingram, MD Class of 2020
Aman M. Irfanullah, MD Class of 2021
Kyle P. McNamara, PhD '19, MD Class of 2021
Jeffrey C. Powell, MD Class of 2022
Meron Fessehaye, MD Class of 2023
Ex-Officio Members
Julie A. Freischlag, MD, FACS, FRCSEd (Hon), DFSVS
Lisa M. Marshall
Beth A. Alexander
Teri C. Lemons, MAEd
Remembering those who have recently passed, through Dec. 12, 2019
William Ries Gabbert, MD '46 March
Owensboro, Ky., Nov. 1, 2019
Robert H. Shackelford, MD '47
Mount Olive, N.C., Dec. 11, 2019
Harold B. Spangler, MD '48
Greensboro, N.C., Dec. 12, 2019
Paul P. Griffin, MD '53
Greenville, S.C., June 4, 2018
William T. Rice, MD '53
Greenwood, S.C., Nov. 15, 2019
Retha Rene Rudloff, MD '53
Lee's Summit, Mo., Oct. 8, 2019
Spencer P. Thornton, MD '54
Nashville, Tenn., Oct. 26, 2019
Gwen R. Sharp, MD '55
Aiken, S.C., Nov. 12, 2019
Stanley H. Edden, MD '56
Cape May Court House, N.J., Sept. 10, 2019
Clifford James Lynch, MD '56
Springfield, Ill., Sept. 13, 2019
J. Richard Corbett, MD '57
Wilmington, N.C., Aug. 14, 2019
Mary Anne Browne Woodring, MD '57
Chenoa, Ky., Oct. 3, 2019
Jack S. Billings, MD '58
Rural Hall, N.C., Nov. 20, 2019
Albert S. Hale Jr., MD '58
San Antonio, Texas, Sept. 11, 2019
D. Douglas Swanson, MD '58
Minneapolis, Minn., July 10, 2019
David Orlo Wright, MD '58
Southern Pines, N.C., Sept. 25, 2019
Vade G. Rhoades, MD '60
Winston-Salem, N.C., Oct. 26, 2019
Robert Parker Pulliam, MD '62
Germantown, Tenn., Nov. 24, 2019
---
Nurse Anesthesia

Alumni who attended the North Carolina Association of Nurse Anesthetists conference gathered for a reception on Nov. 2, 2019.
NCANA Honors Briggs for Lifetime Achievement
Cathy B. Briggs, CRNA '71, received the Lifetime Achievement Award from the North Carolina Association of Nurse Anesthetists (NCANA) during its annual business lunch held in Wilmington in November 2019.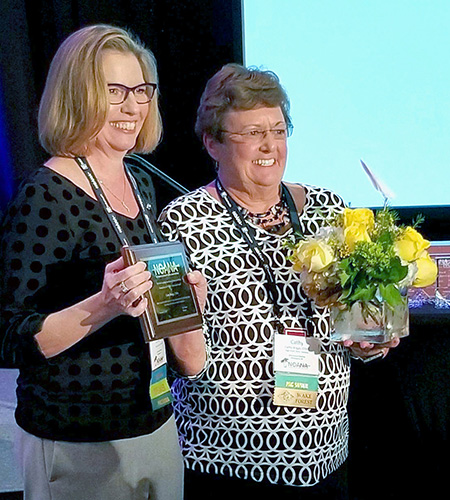 Briggs worked for 48 years at what is now High Point Medical Center. After retiring in 2016, she started her own freelance business and continues to give anesthesia two to three days a week. She also continues to serve on the Nurse Anesthesia Program's steering and admissions committee, and she serves as a faculty member for the H3A program, which is a weekend course for nurses interested in becoming CRNAs.
She is a former director of the CRNA Alumni Association Board. At the state level, she is a former NCANA board member and remains chair of the NCANA History Committee.