Mentor, Compassionate, Nurturing, Innovative, Encourager
These are the attributes Kellie Griggs, DNP, MSN-Ed, RNC-OB, assistant professor in the department of academic nursing, uses to describe herself. Griggs' primary responsibilities are educating future Doctor of Nursing practice students in the Department of Academic Nursing on translational research, translational frameworks for practice change, and as a faculty advisor for DNP scholarly projects. She also educates future CRNA students on practical applications of theory and high-risk obstetrics. Along with teaching, she provides contributions to the curriculum and program development for the DNP program.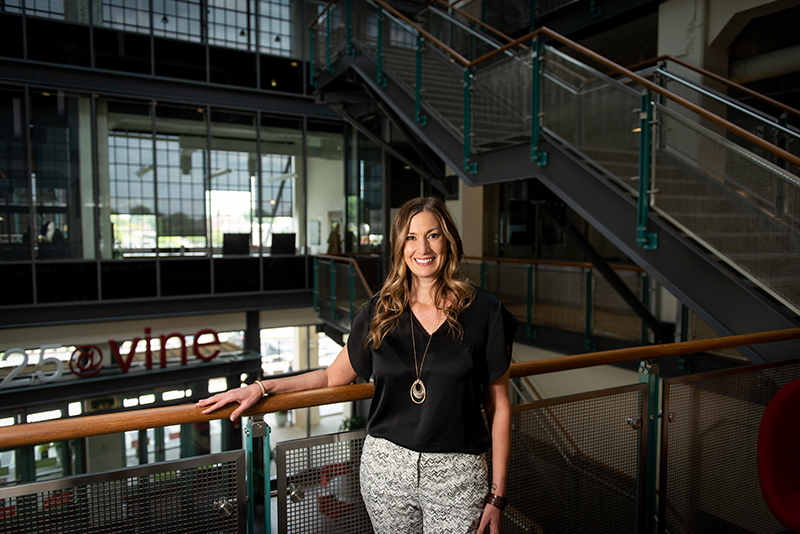 However, that is only part of where her strengths lie. Griggs, an ongoing learner, found her professional knowledge, creativity and love of mentoring blossomed in the academic setting. After taking a less traditional path into nursing and completing her education as an adult learner and mother of four, Griggs appreciates that her life experiences create a framework for her professional philosophy which centered on investing in others' successes and reminding people they can create positive change.
Her recent scholarship includes understanding the birth experience of minority women in North Carolina, removing barriers for maternal substance use disorder and evaluating preventable factors that may contribute to maternal mortality and morbidity. All of which she has published and presented on nationally and internationally. Griggs is also a director for the Association of Women's Health, Obstetrics, and Neonatal Nursing (AWHONN) National Board and was a part of the 2018 AWHONN Emerging Leaders Fellowship Academy and received the 2019 NC AWHONN Nurse Leader award.
But that is just the beginning of Griggs' story. Get to know her in her own words.
_________
What are some of your hobbies or interests outside of work?
I love interior design and making spaces feel comfortable, cozy and welcoming. My Rockstar husband, Sterling, of 22 years, and I have four children ages 20 though 13, and our lives are filled with many sports, family dinners, time with friends, game nights, and time at the beach. We also serve as volunteers with Meals on Wheels and other community service agencies.
What's your experience and how did you get into the field?
First, I love being a nurse and find the profession affords endless opportunities for professional growth and innovative pathways. My personal professional journey toward becoming a nurse educator originated on a less than tradition path. I completed my ADN, and then after the birth of my second daughter continued on to complete my BSN, MSN and Doctor of Nursing Practice degree. This also included a lot of late nights, coffee and pep talks. These life experiences created a framework for my professional philosophy centered on investing in others' successes and reminding people they can achieve greatness.
What inspires or motivates you?
I am first and foremost inspired by my husband who has always encouraged me to pursue my dreams and is my biggest fan; my children who are flexible and supportive, and my mom, who modeled caring for others without judgement. I am also motivated by my amazing colleagues, supportive friends, and seeing others flourish to reach their goals. Being a part of something bigger than myself, witnessing change and serving and investing in others. I want to teach others to be advocates and change agents, and I am motivated to keep empowering students; nurses; and colleagues to be successful.
What made you want to teach future health care providers?
I have always enjoyed education and found my professional knowledge, creativity and love of mentoring blossomed in the academic setting. I was privileged to have mentors, leaders and peers invest in my professional journey, along with providing opportunities along the way. It is a joy to walk beside students and clinicians; and seeing them capture those "aha" moments. Knowing that I have the responsibility and privilege to build others up from a place of pouring out meaningful knowledge is incredible. I would certainly say that making even the most difficult content engaging and translatable is my sweet spot. Furthermore, my passion for high-risk obstetrics, enhancing nursing knowledge, and teaching others to be advocates for the vulnerable all impacted my path to becoming a faculty member.
Why do you enjoy teaching?
I am beyond grateful to be faculty in the Wake Forest School of Medicine, Department of Academic Nursing. There are several things I love about teaching at Wake, however, I will only list a few. I work with the most amazing team of professionals who inspire me with their dedication and caring every day. My team of nursing colleagues supports each other's ideas, encourages creativity, promotes innovation and are always there for each other. We have a unique and powerful team dynamic that positively translates to students and practice outcomes. Next, the students! Wow, can I just say that we have an incredibly diverse group of students who bring a multitude of experiences, wisdom and backgrounds to our programs. It is a pleasure to serve as not only an educator, but also a mentor who can intentionally invest in students academically, professionally, and personally. My goal is to expand their minds over their pens; encourage them to step outside of their comfort zones, influence the world around them, and connect others to experiential learning experiences.
I truly enjoy the ability to blend my clinical experience, educational knowledge and program of scholarship across the department and beyond. I am also involved with Women in Medicine and Science (WIMS) and the faculty mentorship program.
What are your research interests?
My scholarship includes understanding birth experience of minority women in North Carolina, removing barriers for maternal substance use disorder, nursing advocacy, and evaluating preventable factors that may contribute to maternal mortality and morbidity.
I serve as a national health policy and maternal health consultant. I have published several clinical manuscripts focused on maternal disparities, education strategies and nursing empowerment. My most recent articles on the Critical OB Patient in the ICU setting; Preterm Labor; and LGBTQ + care in the OB setting were featured as lead articles and continuing education pieces. I co-developed a faculty peer support program (FACES) and co-authored a study focused on holistic faculty needs. I am grant funded and have also presented podium presentations on issues surrounding obstetrics and nursing empowerment at a national and international level.
I am actively involved as a member in numerous nursing organizations including AWHONN, SIGMA, NCNA and ANA. I hold a certification in Inpatient Obstetrics (RNC-OB), am certified as an AWHONN Fetal Monitoring Instructor/Instructor Trainer, and a subject matter item expert for the National Certification Corporation. I am also an instructor for Neonatal Resuscitation Provider (NRP) and Cardio Pulmonary Resuscitation Provider (BLS).
What advice do you have for future DNPs?
My advice for future DNPs is to pursue their personal and professional passions! Know that this degree will provide a pathway to globalize and enhance their knowledge in a multitude of areas ranging from organizational levels to communities. The profession of nursing is evolving at a rapid pace, and nurses must possess enhanced knowledge to be leaders and influencers of healthcare. The DNP also affords opportunities for large scale collaborations, national policy involvement and advocacy, and innovations to create meaningful change. Nurses are incredible innovators who know how to operationalize and create sustainable impacts. The DNP degree opens doors to numerous opportunities surrounding professional growth, service and scholarship. The DNP degree opens doors for interprofessional collaborative work and provides a pathway for nurses to implement their immense understanding of healthcare systems, law, quality, evidence-based practice and innovative strategies. If you have a passion for transforming health care and being an innovative change agent, the DNP degree is for you!