Educator, Passionate, Tenacious, Problem solver, Diligent
These are the words that Elaheh Rahbar, PhD, assistant professor of Biomedical Engineering, uses to describe herself. In addition to running the Rahbar Lab focused on discovering and engineering personalized solutions for managing and treating traumatic injuries – she also is a steering committee member for the Critical Illness, Injury and Recovery Center (CIIRRC) and runs the CIIRRC Think Tank seminar series with Atrium Health.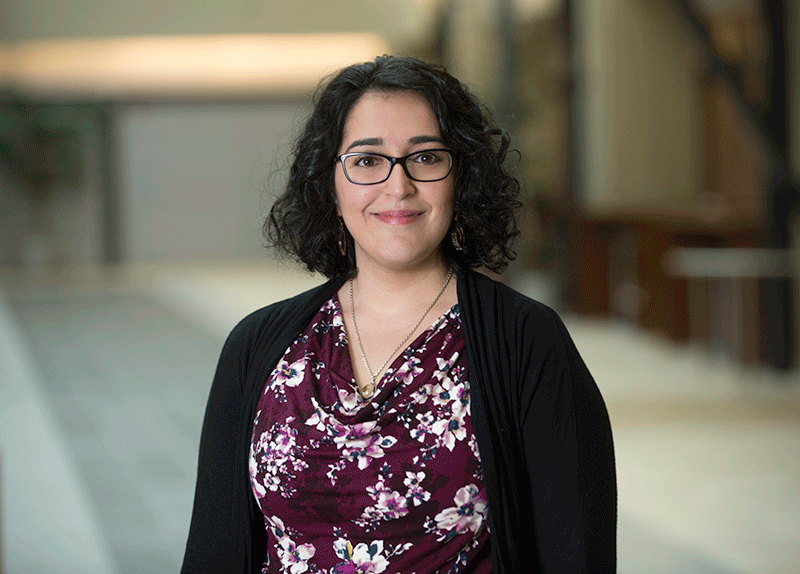 In her education capacity, Rahbar serves as one of the founding graduate committee members and curriculum co-chair for the graduate program in Biomedical Engineering, a collaboration between the Wake Forest School of Medicine Department of Biomedical Engineering and the Virginia Tech–Wake Forest University School of Biomedical Engineering and Sciences (SBES). She also is the co-director of the Qualifying Exam and the Summer Research Experiences for Undergraduates program, which is funded by the National Science Foundation.
With a passion for discovery and education, Rahbar is moving the needle to improve patient care through research while educating the next generation of biomedical engineers. Get to know her in her own words
What inspires or motivates you?
I'm inspired by helping people, especially helping students find their passion and career path in life. From a research perspective, I'm motivated to design creative solutions to existing healthcare problems and help physicians/doctors deliver better care to their patients by using our technologies or algorithms.
Tell us about your background. What's your experience and how did you get into the field?
I'm a biomedical engineer who has had slightly non-traditional route. I received my BS in Materials Science and Engineering from Michigan State University and then got my PhD in Biomedical Engineering from Texas A&M University. My doctoral training was in the area of cardiovascular and lymphatic fluid mechanics. I then did my postdoc training at the University of Texas Health Science Center in the Department of Surgery where I was the only engineer in a group of physicians and coagulation biologists.
While in Texas, I immersed myself in the Emergency Department and Trauma ICU to learn the ropes about what the true clinical environment was like, and also how to run multi-site clinical trials. At the time, my PhD advisor told me it was a bold move, but one that has ultimately supported me to do the type of translational research I conduct today.
After three and a half years of postdoctoral study, I joined the faculty in Biomedical Engineering at the School of Medicine, where I've thrived from strategic collaborations between the Departments of Biomedical Engineering and Surgery. I am first and foremost a biomedical engineer studying the dynamic physiologic response to traumatic injuries, with a particular focus on hemorrhagic shock and traumatic brain injury (TBI). Our primary interest is in understanding key biological events following major hemorrhage and TBI where we can potentially intervene and help improve patient outcomes.
What do you do at work on a daily basis?
I stay busy with my research and teaching duties, which means being on lots of calls and meetings. My day-to-day activities predominately include responding to emails and writing much more than I ever thought I would. One of my favorite things to do at work is to meet one-on-one with students and faculty colleagues to brainstorm new research ideas. During COVID-19, I made it a priority to write down one thing I am grateful for each day.
What made you want to get into research and education?
I've always been passionate about education. I think it's so important for everyone at every age to learn new things and to have a desire and curiosity to learn more. All it takes is for one educator to make a difference in a person's life. My dad is a professor in biostatistics and growing up I was always surrounded by other researchers. He encouraged me to always think critically and would make me read his papers about public health. In many ways, he trained me to think like a researcher from a very young age.
What makes opportunities at Wake unique?
Students are able to enjoy the benefits of small classroom sizes and one-on-one mentoring from high profile researchers, both at undergraduate and graduate levels. The partnership with the hospital allows for excellent translational science to occur while protecting our time to perform cutting-edge research.
What skills should someone pursuing a career in healthcare have?
Future clinicians and researchers should have compassion for themselves and others, diligence, patience, with a mind for innovation and creativity. Don't be afraid to think outside the box.
What advice do you have for future students and researchers?
Follow your passion and be steadfast in achieving that goal. Be compassionate and understanding, don't be quick to judge. Be flexible; there are often multiple ways to achieve something. Don't despair if things don't work out the first time.
How can students and researchers find mentors?
Just ask! Faculty are often willing to serve as mentors to students. The graduate school can also help grad students identify mentors. When you're networking at conferences or meetings, you can ask for mentorship. Some professional organizations also provide mentorship services.
What are some of your hobbies or interests outside of work?
I like to play and watch tennis. I love hanging out at the beach and listening to the ocean. When I go on vacation, I actually disconnect and unplug from the computer – it's great and I highly recommend it. I'm a foodie and love to try new foods from all over the world. Mostly, I like spending time with my family and friends.