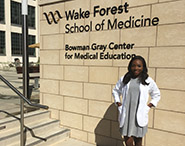 In 2016, Calisha Allen won two competitions with statistically slim odds. At the Carolina Panthers TopCats tryouts, she competed with hundreds of other hopefuls to secure one of 11 openings on the 32-member squad. As an applicant to Wake Forest School of Medicine, she was one of 129 students selected from among 9,115 applicants.
Allen feels fortunate to be advancing two lifelong passions simultaneously, but she is quick to admit that it's hard work. When people learn she is a medical student and a cheerleader, most ask, "How do you find time for both?"
"I'm very disciplined," Allen said. "I can make a schedule and stick to it minute by minute. It requires a lot of planning ahead and sacrificing free time."
Allen travels to Charlotte for rehearsals every Wednesday and Saturday, plus five hours of preparation before home game kickoffs. She scours her class and football schedules to find blocks of time for study. Carpooling with teammates helps her squeeze in study time on the road.
Born in Moultrie, Ga., Allen moved to Virginia Beach, Va., during middle school, when her father, a career Naval officer, was assigned there. She has wanted to be a doctor as long as she can remember.
"As a toddler, my parents bought me a toy doctor kit, and I pretended to treat my father's aching legs," she recalled.
When not pretending to be a doctor, she danced around the house and joined friends in the front yard making up routines. Her mother channeled that energy into little league cheerleading, and Allen has been cheering continuously since.
While earning a double major in biology and psychology at the University of North Carolina at Chapel Hill, she was on UNC's team that went to national cheerleading competitions. After graduating in 2013, she coached at Palmetto Athletic Center while completing a graduate certificate in biomedical sciences at the University of South Carolina in Columbia.
Allen dispels the popular misconception that NFL cheerleaders "are just women who know how to dance, put on makeup and look pretty." She describes her teammates, which include teachers and business professionals, as comparable intellectually to her medical school classmates and among the best athletes and hardest working, highest-achieving women she has met.
"These are not just elite dancers, they are elite people," Allen noted. "They are driven and will succeed in any field they choose."
For aspiring medical students who have other strong interests, she has straightforward advice:
"Keep doing the things that you are passionate about for as long as you can," she advised. "To be able to do the two things in my life that I care most about has been tremendous. Medical school is hard and takes a lot of work, but staying involved with what you love is going to make you a better student, a better physician and a better person."