Regenerative medicine encompasses both tissue engineering and self-healing, and the discipline has emerged as a hugely valuable one with immense ramifications for improving human health. The Wake Forest Institute of Regenerative Medicine (WFIRM) has a unique infrastructure that provides facilities and expertise for translational studies, from basic preclinical findings all the way through Phase 2 clinical trials.
The overall goal of our T32-supported pre-doctoral training program, "Studies in Translational Regenerative Medicine," is to develop the next generation of interdisciplinary and translational research scientists and engineers required for significant scientific progress in the field of Regenerative Medicine (RM). The ability to link "state of the art" multidisciplinary basic science training to the infrastructure and knowledge bade required for efficient clinical translation of RM technologies are key strengths.
Training includes traditional didactic course work, a variety of WFIRM-wide training activities, and participation in cutting-edge team research, grant writing, scientific presentations, and opportunities to engage within academic, government and industry collaborations. The program emphasizes professional development encompassing project and time management, with exposure to ethical issues in RM and clinical trials. There are 6 research focus areas:
The program includes six focused research areas:
Biomaterials/Enabling Technologies
Stem Cells/Cell Therapies
Cardiovascular and Vascular Repair/Regeneration
Musculoskeletal
Gastrointestinal/Endocrine
Urological
The T32 program has 19 mentors, arranged in well-defined, three-level mentoring/co-mentoring structure: primary mentors (n=11), mentors in training (n=4), and Emeritus Mentors (n=4). Concomitantly, each research focus contains atleast five faculty members with complementary expertise, who participate in the training and supervision of graduate students as co-mentors. WFIRM faculty have appointments in multiple graduate tracks, bringing together expertise and cutting-edge technologies in cell and molecular biology, genetics, biomedical engineering, physiology, stem cell biology, animal modeling, surgery, matrix biochemistry, and materials chemistry. All 19 training faculty have a primary appointment or a cross-appointment at WFIRM. Every translational research project at WFIRM is co-mentored by a basic scientist and a clinician. Trainees also engage with clinical co-mentors who are selected from many experts available across our extensive network of intramural, extramural and international collaborations.
The primary focus of the STRM training program is in the following PhD program tracks of Wake Forest University Graduate School
After a common first year curriculum that is unique to each track, students will identify one of our 10 primary mentors (of the 19 total program faculty), take two additional regenerative medicine-based courses, choose a graduate committee that will guide them through their thesis work and participate in a variety of WFIRM-wide training activities; special workshops; participation in cutting-edge team research; grant writing; scientific presentations; and opportunities to engage within academic, government and industry collaborations.

The Program Director, Dr. Anthony Atala, has ultimate responsibility for the administration of the training program, assisted by an Executive Committee composed of senior experienced trainers. The training program is reviewed and evaluated annually by both an Internal Advisory Committee and External Advisory Committee, whose members have extensive experience managing training programs as well as nationally renowned research programs in regenerative medicine.
Faculty Research Mentors Areas of Research Focus
Faculty
Area of Research Focus
Anthony Atala, MD
Graca Almeida-Porada, PhD
Colin Bishop, PhD
Tracy Criswell, PhD
Vijay Gorantla, MD, PhD
John D. Jackson, PhD
Sang Jin Lee, PhD
Sean Murphy, PhD
Frank Marini, PhD
Christopher Porada, PhD
Shay Soker, PhD
Emmanuel C. Opara, PhD
Marshall Schwartz, MD
David Williams, PhD, D.Sc.
J. Koudy Williams, DVM
James J. Yoo, MD, PhD


Professor, Dir. of WFIRM and Dir. of Training Grant
Professor, WFIRM and Assoc. Dir. of Training Program
Professor, WFIRM
Professor, WFIRM
Assistant Professor, WFIRM
Professor, WFIRM and General Surgery
Associate Professor, WFIRM
Associate Professor, WFIRM
Assistant Professor, WFIRM
Professor, WFIRM
Professor, WFIRM
Professor, WFIRM
Professor, WFIRM
Professor and Surgeon, Dept. of Urology and WFIRM
Professor, WFIRM
Professor, WFIRM
Professor, WFIRM
Meet our Pre-Doctoral Fellows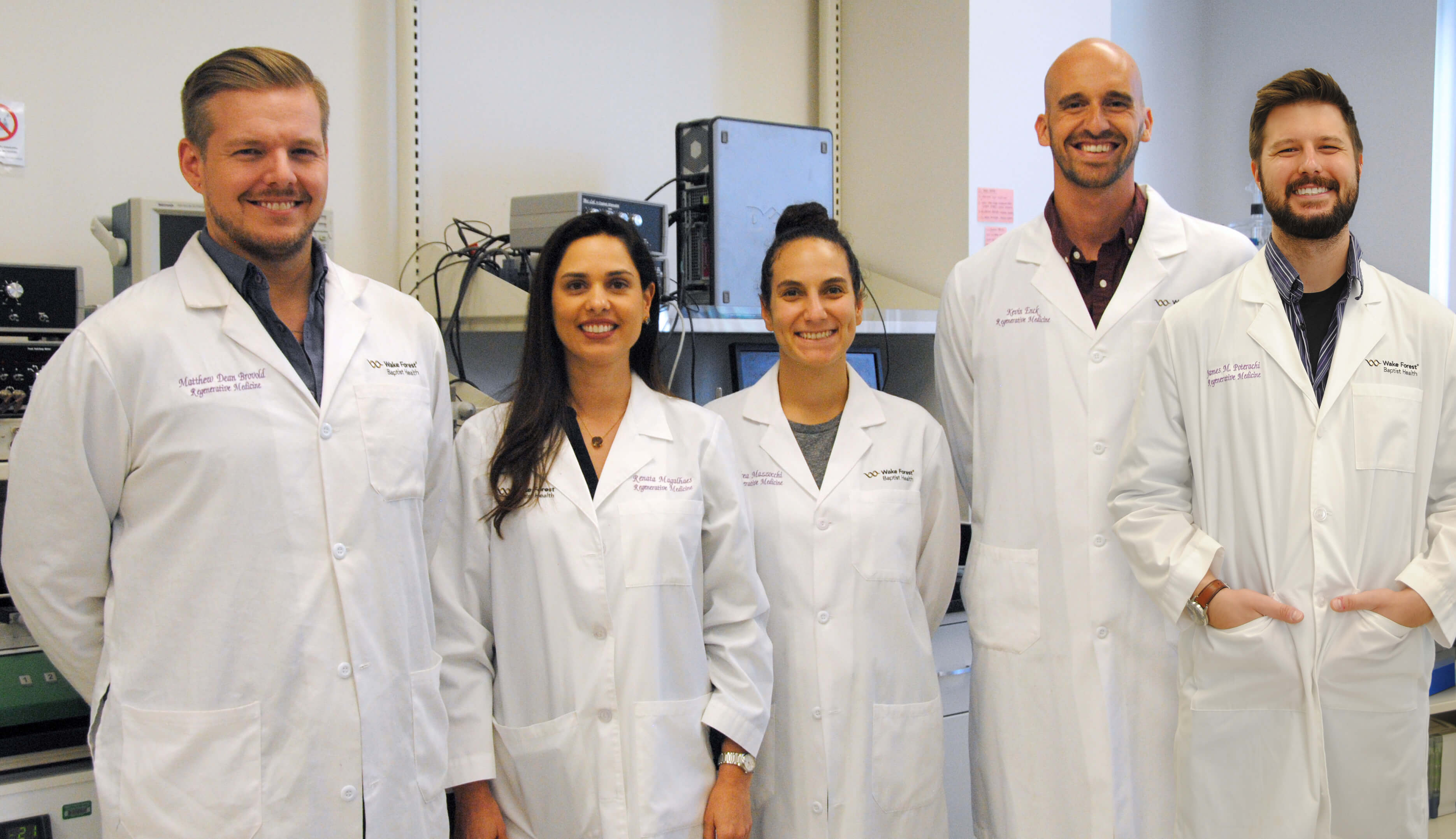 As pictured: Matthew Brovold, Renata Magalhaes, Andrea Mazzocchi, Kevin Enck, James Poteracki
Pre-Doctoral Fellow Bios