Thanks to all our presenters and judges for making the 12th Annual Internal Medicine Research Symposium a great success. Congratulations to all the winners!
Medical Students
1st place: Emily Lupez and Taylor Lammert, "I'll take Gender Identity for 500" – Changing Knowledge and Comfort in Care of LGBTQ Patients with a Novel Training Approach
2nd place: Marlena Wosiski-Kuhn, "Improving Frequency of Diabetic Foot Exams in a Free Clinic Setting"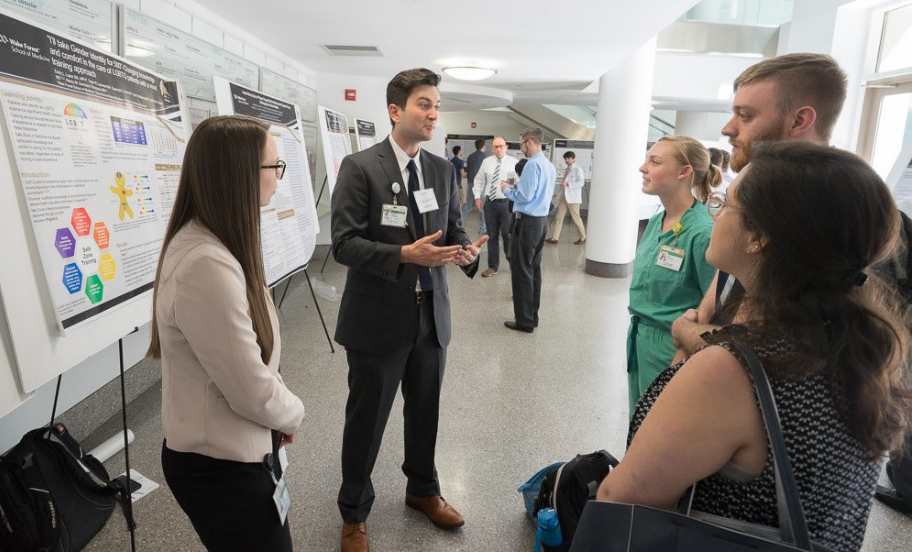 1st place medical students Emily Lupez and Taylor Lammert present their poster.
Clinical Vignette
Residents
1st Place: Clayton Jackson, "IgG4-Related Disease: The Great Imitator"
2nd Place: William Carrera, "Leukemic Retinopathy: A Paradigm of the Hypercoagulable State of Malignancy"
Fellows
1st Place: Matthew Gorris, "Biotin Supplementation Mimicking Graves Disease"
2nd Place: Kevin Cumper, "Coxiella Infection in Immunocompromised Patient on Humira"
Junior Faculty
1st Place: Shankar Polsani, "Severe Type B Lactic Acidosis Associated with Diffuse Large B-Cell Lymphoma"
2nd Place: Yoania Quintana-Garcia, "A Case of Neuromyelitis Optica Spectrum Disorder in Patient with Sjorgen's Syndrome"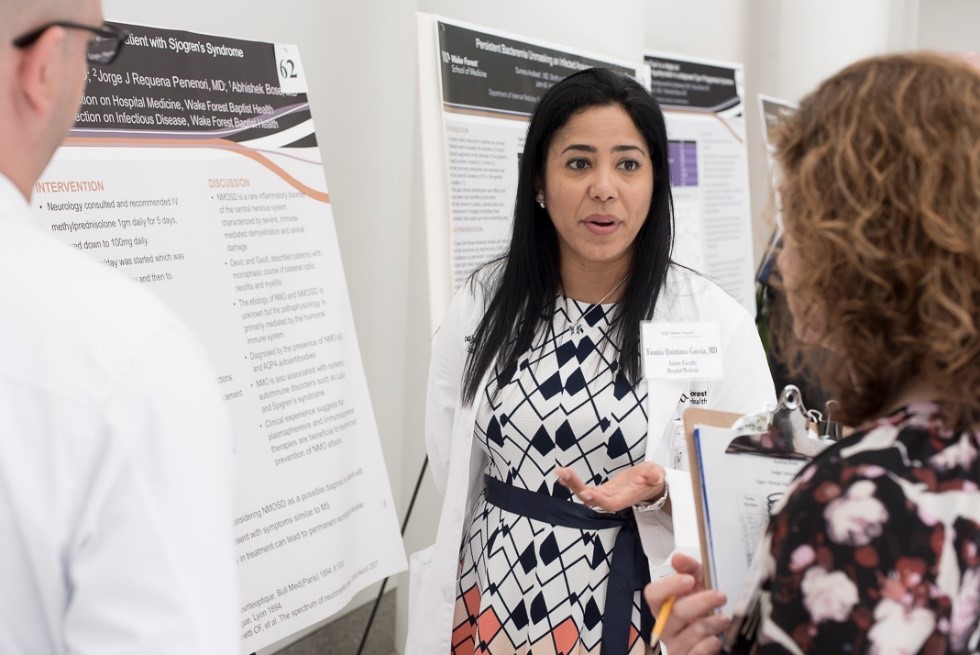 Hospitalist Dr. Yoania Quintana-Garcia presents her 2nd place clinical vignette poster to Dr. Vera Luther (Infectious Disease).
Clinical Research
Residents
1st Place: Kavya Kannan, "Retrospective Analysis to Evaluate the Benefit of Re-Induction in Adult Patients with Acute Myeloid Leukemia who have Day 14 Bone Marrow Findings Suspicious for Residual Disease"
2nd Place: Krupal Hari, "Therapeutic Hypothermia in Cardiac Arrest Survivors with Pre-Existing Congestive Heart Failure is Nephroprotective"
Fellows
1st Place: Stephen Mullis, "Rates and Predictors of Thirty Day Readmission Among Patients Hospitalized for Erythematosus at a Single Tertiary Care Center"
2nd Place: Thomas Lycan, "Neuromuscular Ultrasound for Assessment of Peripheral Neuropathy in Breast Cancer Patients Receiving Taxane Therapy"
Junior Faculty
1st Place: Brittany Henderson, "Whole Genome Homozygosity Confirms Errors in Meiosis as Etiology in Struma Ovarii"
2nd Place: Roy Strowd, "Feasibility of Proton Magnetic Resonance Imaging Spectroscopy for Assessing the Cerebral Metabolic Activity of Ketogenic-Based Diet in Patients with Glioma"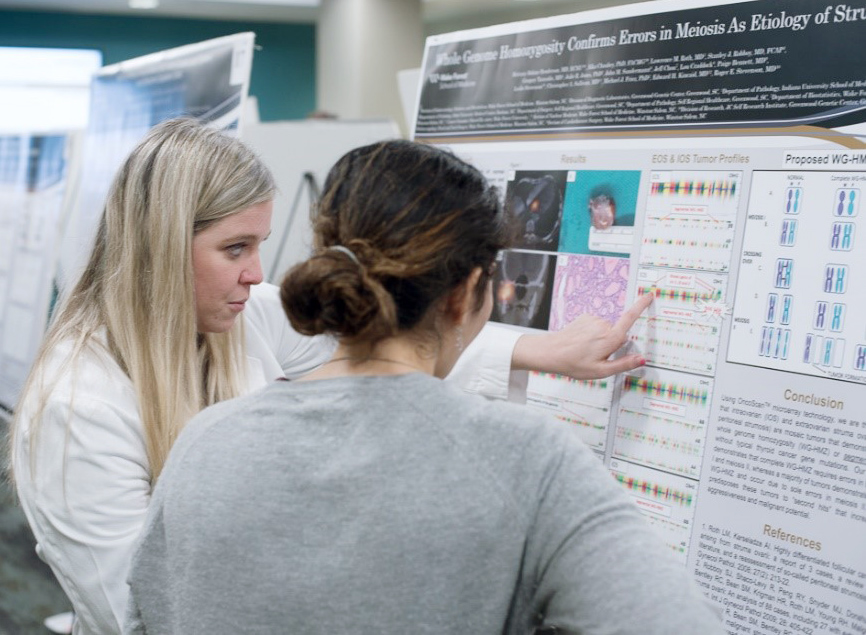 Dr. Brittany Henderson, junior faculty in Endocrinology, discusses her 1st place clinical research poster.
Basic Science
Residents
1st Place: Alexander Kovalic, "Mitochondrial Energetics and Adaptations in Non-Alcoholic Fatty Liver Disease (NAFLD)"
2nd Place: Anne Wofford, "Effect of Glucose Concentration on AML Cell Line Sensitivity to Chemotherapy"
Fellows
1st Place: Ryan Woods, "Development of a Selective Binder Against Calreticulin Using the Alpaca Immune System"
2nd Place: Guy El Helou, "The Feasibility of Infusion into Salivary Glands as a Vaccine Method"
Hematology and Oncology fellow Dr. Ryan Woods discusses his 1st place basic science poster.
Quality Improvement
Residents
1st Place: Jessica Hollingsworth, "Health Maintenance SmartSet: A Customized Tool in Epic to Improve Patient Care and Resident Experience in Resident Primary Care Clinics"
Fellows
1st Place: Sarah Stephens, "Implementation and Impact of a Systematic Approach to Screening for Obstructive Sleep Apnea in a Surgical Navigation Center "
2nd Place: Ahmar Malik, "Prevention of Hyperoxia in Post-Operative Cardiothoracic Surgery Patients"
Junior Faculty
1st Place: Padageshwar Sunkara, "Lightening Huddle: An Innovative Method for Improving Patient Throughput"
2nd Place: Padageshwar Sunkara, "Impact of Multidisciplinary Team Based Care in a Geographically Positioned Hospital Medicine Unit at a Large Academic Medical Center"