Women in Medicine and Science works to improve women's health and health care through research into biological differences in disease and by educating the next generation of health care providers and researchers. Biological sex and gender play major roles in the prevalence, progression and prognosis of numerous medical conditions, including:
Obesity
Diabetes
Cardiovascular disease
Cancer

Substance abuse
Depression
Alzheimer's disease
Autoimmune diseases
To help researchers at Wake Forest Baptist interested in women's health connect with each other and promote collaboration, we maintain a portfolio of institutional women's health researchers.
Other ways we promote women's health and sex differences in disease include:
Sponsoring an annual research conference that showcases achievements in a topic area. This conference is free and open to everyone.
Coordinating research internships for area undergraduates
Offering a clinical internship/shadowing program for Wake Forest University undergraduates
Administering the distribution and use of validated surveys
Women's Health Internship Opportunities at WFSM
WIMS is committed to the promotion of women's health, and we know that the recruitment of future top-notch researchers and physicians begins at the undergraduate level. Therefore, we coordinate women's health internships between Wake Forest School of Medicine (WFSM) researchers and healthcare providers and undergraduate students from area colleges who are looking for projects for course credit and/or experience in women's health or sex differences research.
WIMS serves as a means for students and sponsors to connect with one another. Once an internship is established, any issues that may arise are resolved between the student and sponsor.
All projects will be in a research setting and managed within departments by the sponsor.
Please note that these internships are usually unpaid positions, and we do not have housing available for out-of-state students.
Graduate, undergraduate and medical students are all welcome to apply for these internships.
Please allow a minimum of four weeks before your intended start date to complete application procedures.
Students should review the internship projects listing and contact Heather Whitley with their project selection. If selected for the project, provide the following to the sponsor:
Non-Employee Registration Form (students fill out Section 1 and 3 and sign the form)
Seven-year criminal comprehensive background*
Immunizations record – sponsor will let you know if required
12 panel drug screening – sponsor will let you know if required
Criminal Background Check/Drug Screening
Wake Forest Students – contact Cynthia Evans cyevans@wakehealth.edu to arrange for completion of these items.
Non-Wake Forest Students – use any agency or call Investigative Associates: 336-768-7040 (3796 Vest Mill Rd. Winston Salem, NC 27103). Costs will vary based on number of states lived in and number of aliases held.
Compile all documents and email to contingentworkforce@wakehealth.edu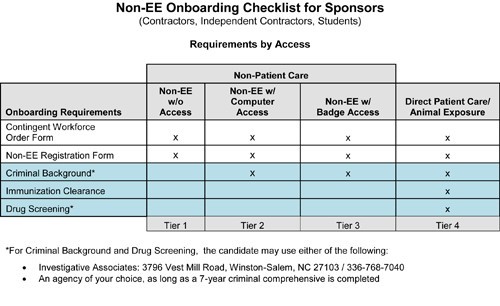 Project Sponsors
If your project is selected, Shannon Suggs will contact you with the student's information. Sponsors should schedule a time to meet with the student directly. Once the student has been selected for the internship, (s)he should follow the instructions above.
Find out more details on the onboarding process.
Sponsors: Please let OWIMS know if you were able to successfully fill your intern position!
Clinical Internship/Shadowing Program
Undergraduate students need clinical experience to be competitive for academic programs in medicine. This experience can be gained by shadowing one or more physicians or physician assistants; volunteering at a local hospital, clinic or nursing home; or working in a clinical setting (EMT, medical scribe, etc.).
Clinical experience is important because it gives the student a clear picture of the realities of, and allows affirmation of a commitment to, the practice of medicine.
The Wake Forest University Health Professions Advising Program has partnered with WIMS to offer a clinical/shadowing internship program for WFU undergraduates that will provide select students with a high-quality clinical experience.
Program participants will be assigned to two physician mentors and must commit to a total of four blocks of four hours during the semester — to be completed at the main Medical Center campus and other WFBMC locations — and attend specific programming designed to increase their understanding of the practice of medicine. Additional shadowing hours are the prerogative of the provider. In addition, students must submit a log of hours worked and a two-page reflection upon the experience.
To be eligible for this program, a student must have demonstrated academic excellence and a record of prior community service. The program is competitive, and students must apply. Each physician will evaluate the students that shadow him or her. These evaluations will be shared with the student and with the chair of the health professions committee.
Program participants are required to go through WFBMC Health and Safety Orientation before the internship begins. In addition, a background check, TB testing and a flu vaccine will be done and immunization records provided. The cost of drug screening and the criminal background check must be borne by the student.
Please contact Dr. Carole Gibson with questions.